NHCS Alumni Testimonials
The students at New Hope Christian School will graduate from 8th grade, but we don't want them to graduate from their faith. To many former students, NHCS holds a special place in their lives. Here is what a few students have to say...
Jacob Kundert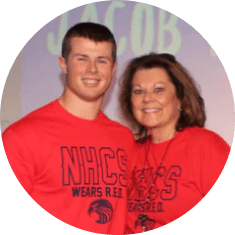 Here's what Jacob had to share after he returned home from a deployment to Afghanistan:
"This school means a lot to me, and this church. I learned a lot from all my teachers. They instilled values in me, and if you pay attention, you can retain those values, and those will help you later in life. John F. Kennedy said, "Ask not what your country can do for you, but ask what you can do for your country." That's what God asks us to do! We have such a great God! We're here to make a difference in this world – to go out and help other people, and have fellowship through that. New Hope has shown me nothing but that. We're all blessed to be Americans, we're all blessed to be Wisconsinites and we're all blessed to be New Hopers.
We have such a beautiful church and school, and such a great family and fellowship through all of that. Thank you so much for all the support, and everything else that you have done. It means a lot to me. It makes everything that I did worth it. It was hard going over to Afghanistan, because I didn't know what was going to happen and that's why faith is so important. I knew through the power of faith and prayer that I would be ok. I'm so thankful for this wonderful school and church and all the great people that work here. May we never take for granted what an honor and blessing it is to be a part of the New Hope family."
The Hall Family
Questions?
Any questions about New Hope Christian School? Simply click the button below and get in touch with us!