Tom Danz and his wife Marilyn have been members of New Hope since 1994. Tom & Marilyn's son Brian and daughter-in-law Stacy are also members of New Hope, and their grandson Caleb and granddaughter Sarah attend New Hope Christian School. Tom worked in the Paper Industry for more than 40 years.
"I served on the New Hope Board for a number of years, most of those as Chairman. Prior to serving on the Board, I chaired the Building Committee that oversaw the building of our current facility. I stepped off the Board a few years ago but continued to serve on the Usher Team and then went back on the Board three years ago. I and my family love the ministry of New Hope and New Hope Christian School and serving on the Board of Directors is the best way for me to give back to New Hope and help keep this ministry ever expanding."
Tim Franz and his wife Jennifer have been members of New Hope for three years. Tim retired as the Fire Chief of the Oshkosh Fire Department in 2018 after being with the department for 33 years. He is now working as an Adjunct Faculty at Fox Valley Technical College. He has a bachelor's degree in Fire and Safety Engineering from the University of Cincinnati and is a graduate of the National Fire Academy Executive Fire Officer Program. Tim and Jennifer have three daughters and two grandchildren.
"I had the privilege of being a "never a day not knowing Jesus" person, having been raised by wonderful Christian parents, attending a Lutheran School and going to church my whole life. But still, I felt there was something missing in my relationship with God and He brought us to New Hope. Worshipping every seven became a joy and need in my life, the worship and messages spoke to my heart like never before. We are so thankful to be a part of New Hope and know that all the great things that are happening here are to spread to the Good News to all the souls that matter and is for God's Glory!"
Tom Galarowicz and his wife Kris have been members of New Hope since 2006. Their daughter Brandy and her husband Rich along with granddaughters Lily, Trinity, and Rich's children Joey and Audrey are also members of New Hope. Lily and Trinity both attend New Hope Christian School. Tom has worked in healthcare finance for the last 34 years and recently retired from being employed as a Director for ThedaCare, a regional healthcare system located in and around the Fox Valley.
"I grew up knowing about Jesus but then, by his grace, gave in to his pursuit of me to become a follower in my mid-twenties. As I look back I can't imagine what life would have been without Christ in me and the hope of Glory. I have been blessed with many experiences the C(c)hurch has provided for personal growth,service opportunities and meaningful relationships. We feel very fortunate to be a part of New Hope where those experiences continue to be provided that help us know God better and to see the power of his love in action. I desire to serve Christ at New Hope to see debt going down and missions going up. I see Financial Peace University as a key tool to support that vision and I enjoy serving with the strength and wisdom Christ Jesus provides. I look forward to whatever He has planned for me in service to His kingdom."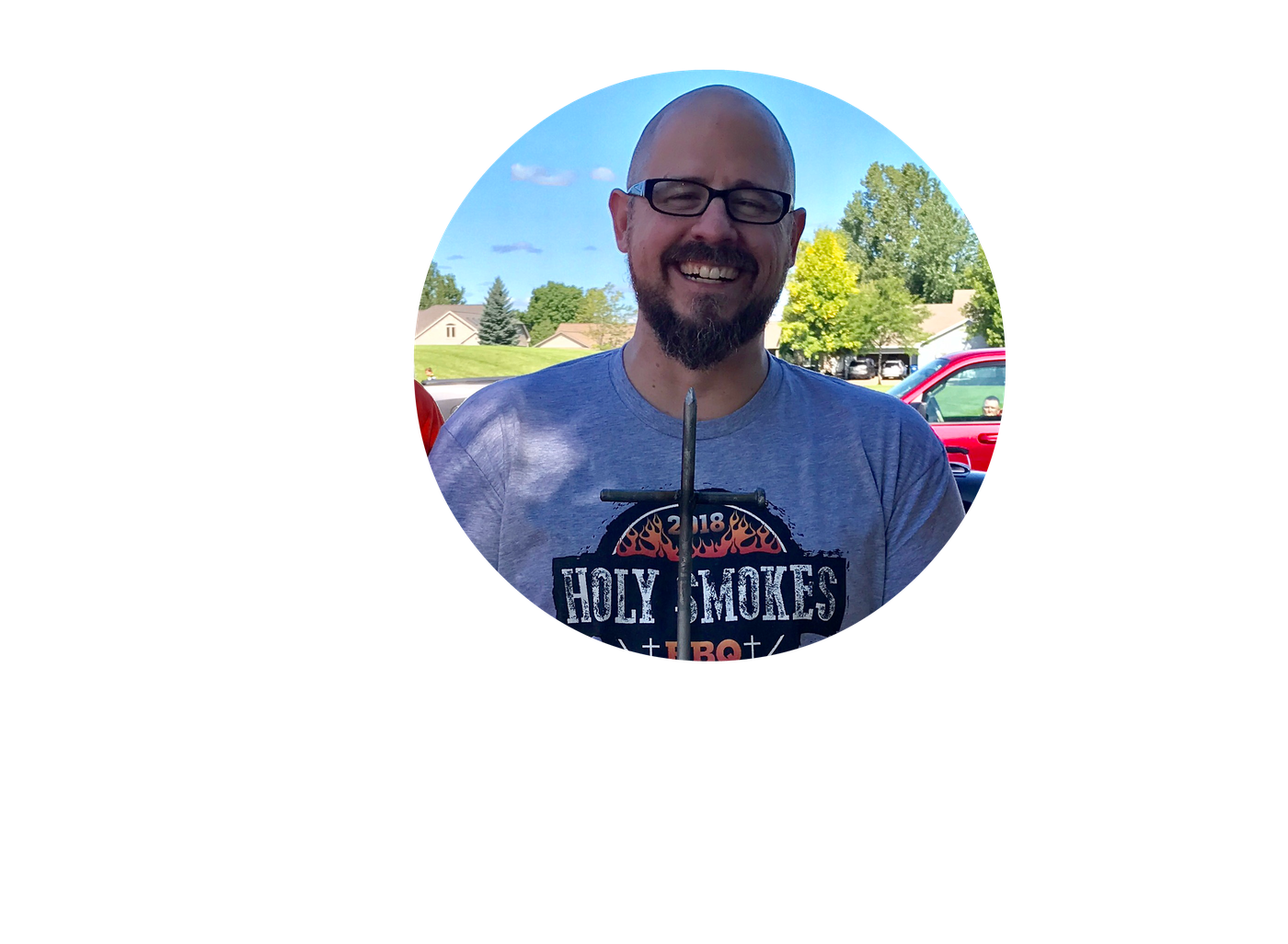 Paul Hartman and his family have been members of New Hope since 2014. Paul and his wife Lindy have two children (Aaden, 7 and Hannah, 12). Hannah assists with teaching in Connectionland and Aaden of course loves being a student in Connectionland. Lindy works part time for Crossways Camping Ministries and can usually be found serving in a greeting/checking in role at most New Hope events. Paul is active in men's group, he leads a men's small group in his home and started the Holy Smokes group which brings together over 200 people each September at New Hope. Paul and his family serve New Hope as part of the hospitality team and they serve with a joyful heart in most any capacity when asked. Paul is a regional supervisor for American Family Insurance Company serving Minnesota, Wisconsin, North and South Dakota. He is currently transitioning to acquire his own business as an insurance agent with American Family Insurance in the Fox Valley.
"I was blessed to be touched by Jesus early in my life. Through His grace and salvation Jesus is developing leadership skills in me which are used on a daily basis for discipleship. I find value in being mentored as well as serving as a mentor and being active in the community as an example of how Christ works through His people. It is not uncommon to find me visiting and guiding inmates, residents at a homeless shelter or with at-risk youth to introduce them to, strength their relationship with and rely on the love of Jesus. I have a history of and developing teams by being an example to others how to see a vision, set goals and then continuously measure them. I would be a valuable asset to the board here at New Hope due to my calm and collected demeanor, my strength of relying of prayer for answers as well as my 16 years of insurance and leadership experience. "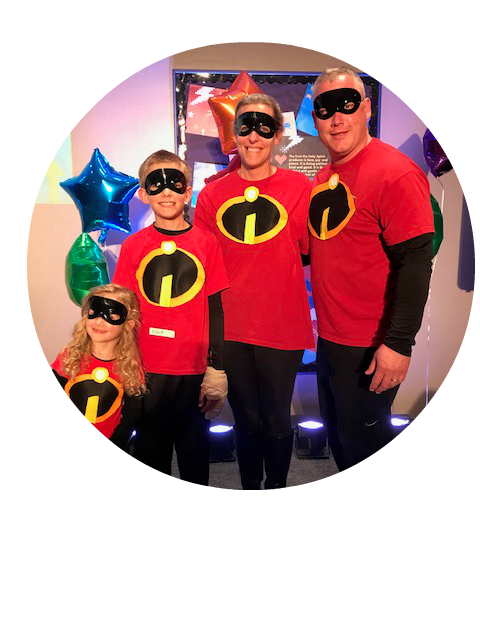 Kory Hyvonen and his wife Tiffany have worshiped with New Hope for over 14 years. Isaiah(6th grade) and Alexandria(Preschool) joyfully attend New Hope Christian School. Kory is starting his 12th year serving as a Crave small group leader. Sunday mornings, you can find Kory and Tiffany faithfully serving in various roles for connection land or connection land jr. with the last few years as 2nd grade leaders. His 16 years in the cheese industry has allowed him to be in a variety of leadership roles. Currently he is the Warehouse Operations Manager at Oshkosh Cold Storage.
"Prior to having kids, we knew we needed to find a church/school combination. Raising our children in other than that environment was non-negotiable. We visited a few in the Valley and felt God pulling us to New Hope. Once we decided that this would be our church, we were all in. Serving in any capacity that we could. Emily asked if we were interested in serving, we were and haven't stopped since. Sarah asked and again, we haven't stopped. If any New Hope staff has a project, we look for ways to arrange our schedules to make it work so we can lend a hand. We have participated in small group gatherings and enjoyed growing in our faith with other fellow friends. We want Isaiah and Lexi to see the same thing that we both saw from our parents; Serving the church in any way possible is just what you do. This isn't about what we do, it's what God does through us. We are just his hands and feet. Now that I've become a bit more experienced in the world(older), I would honor the opportunity to expand my service beyond the youth and become a fellow member of the Board of Directors at New Hope. As a board member, I would expand our opportunities to make disciples by enhancing our current programs and building for the future."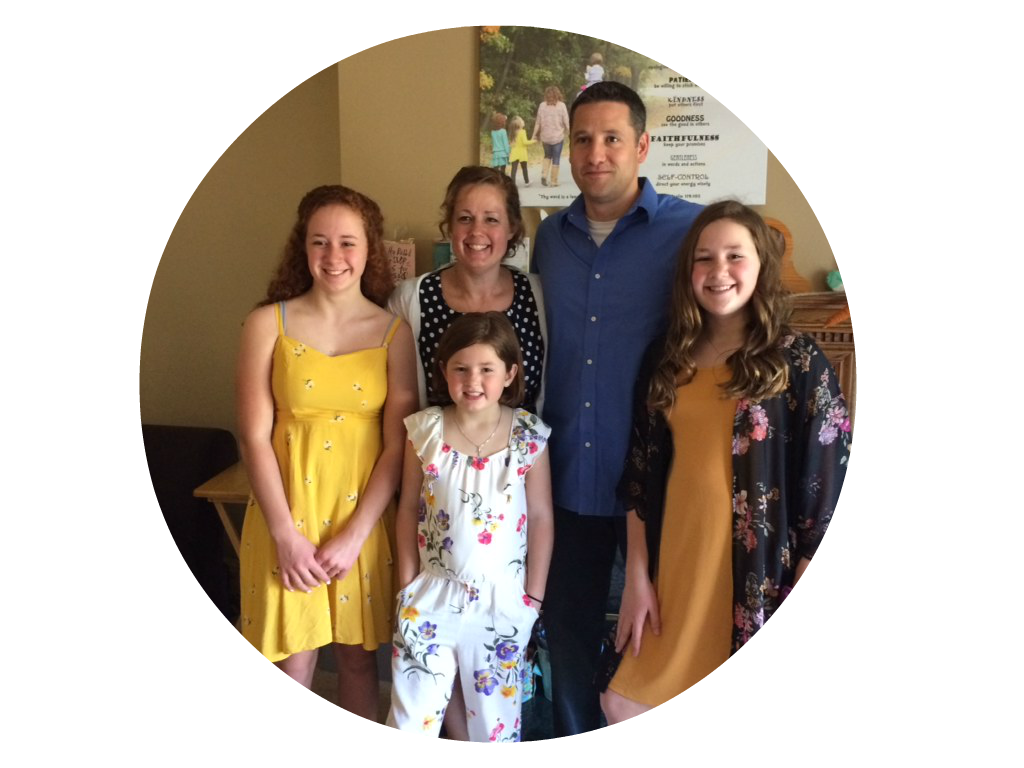 Dan Janichek has been a member of New Hope since 2002. Formerly serving on the board as secretary from 2010 to 2014. He is a Product Development Manager at a Christian friendly employer, Amcor. Dan is also a husband to Tina and father to Madyson, Birkley and Reagan.
"Whether on the Board of Directors or as a member of the congregation, I look forward to being able to help support the church and Pastor Jeff / Chris's efforts to deepen people's relationship with Jesus Christ. Volunteering, attending, tithing, etc. all become top priorities when you have the passion, trust and love of Jesus Christ in your heart. I am excited to see New Hopers experience God's grace through local and distant mission opportunities."
"My relationship with Jesus continues to grow & expand in my current phase of life. New Hope, along with many local churches, offers so many opportunities for spiritual growth and learning (PJ's book club has been a nice highlight this past year). It had been an honor to serve New Hope via the board in the past and since then I've been helping with the No Regrets Men's Conference committee. If nominated, I look forward to helping be a part of managing this "transition period" for New Hope. As with any church congregation, we have had our ups and downs but God has continually provided, He always comes through. I look forward to the opportunities ahead and continuing to be a part of God's Church with a capital C."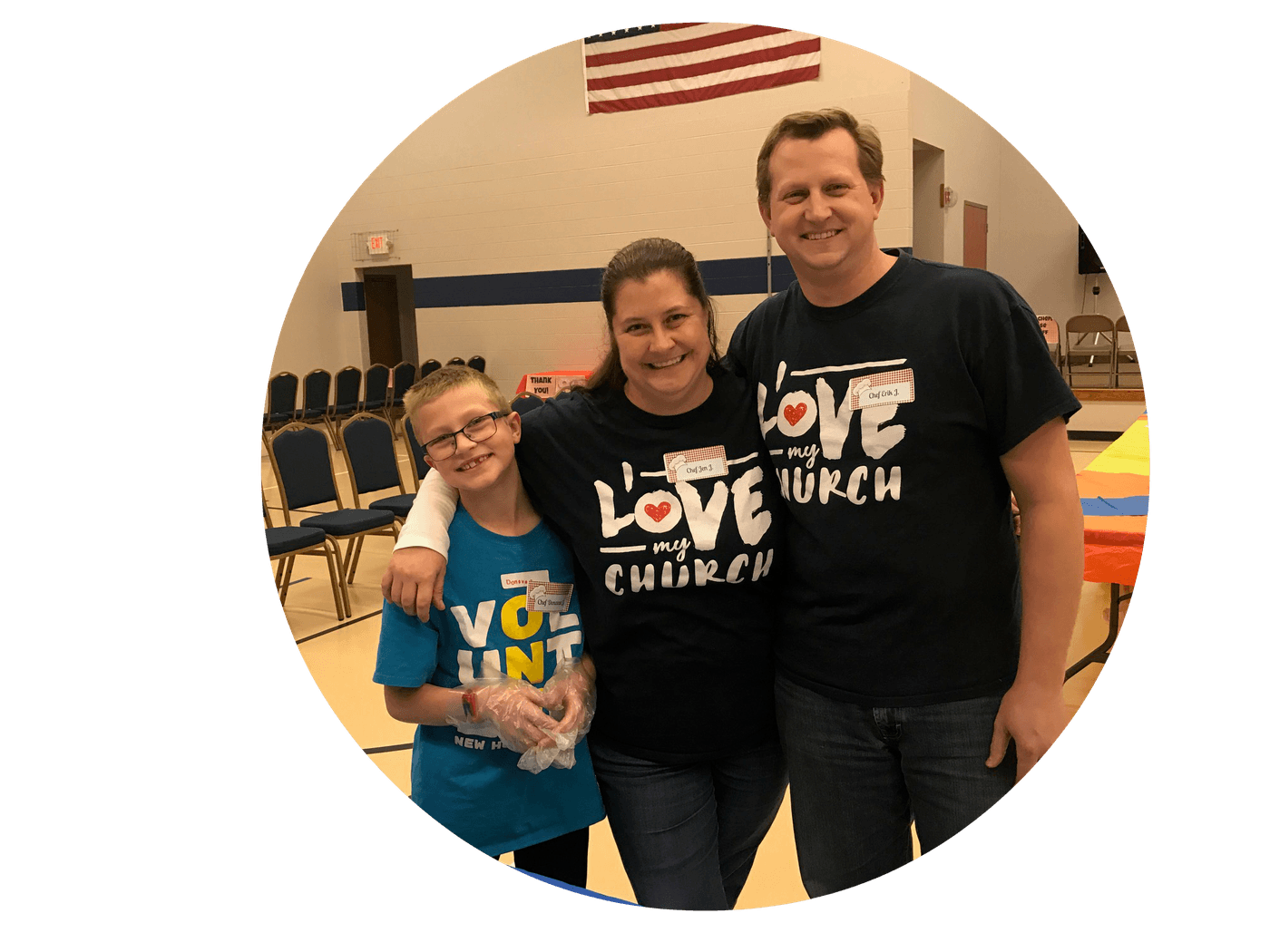 Erik Johnson has been a member of New Hope since 2001. He is a Manufacturing Process Improvement Manager at Amcor. Erik is a husband to Jennifer and a father to Donovan.
"I came to New Hope as an unconnected soul and discovered the grace of God at New Hope. I have served on the New Hope Media team since 2002 and have since found joy in helping New Hope and others with Fam Jam jr., Common Ground, The Advent Concert and leading a small group. Serving New Hope with the skills that God has graced me with has truly been an honor and a privilege. My relationship with Jesus continues to grow and as my faith grows I find delight in helping New Hope and the Big C Church grow. As a New Hope board member, I will continue growing New Hope and the Big C Church."
Darrin Kuehn and his wife Erin have been New Hope members for 10 years. Darrin and Erin grew up in Lutheran Churches and attended Faith Lutheran when they married and moved to the valley. After they started their family, they were looking for a church that better engaged their children. New Hope was the right church! They have 5 kids: Jackson (15), Julian (12), Ruby (9), Jesse (6), and adopted Liberty 2 ½ year ago. Jesse will start 1st grade at New Hope Christian School this fall. Darrin has served on the Strategic Planning committee the last few years, on the call team that brought Pastor Chris to New Hope, and as a Board Member the last year.
"Whatever you do, work at it with all your heart, as working for the Lord, not for human masters…It is the Lord Christ you are serving." Colossians 3:23-24". This verse best identifies with me and helps to keep me grounded in my decisions/actions throughout each day. "Working for the Lord" is my motivation for continuing to serve on the board. We are called to do our best to help and serve others – and I believe I can best help our church by serving on the board. I am proud of the board for what we have accomplished the last year in calling and onboarding a new Pastor and laying the groundwork for the future of our church. Sustaining and Growing our Church in today's culture and multi-media outlets is no easy task.
There is much work to be done in meeting the needs of our staff, members, and children both today as well as planning for our future. But, we have a Great Team at New Hope and we can do it!! With God's Grace, I am excited for the opportunity to continue to work as a board member and help build our wonderful church."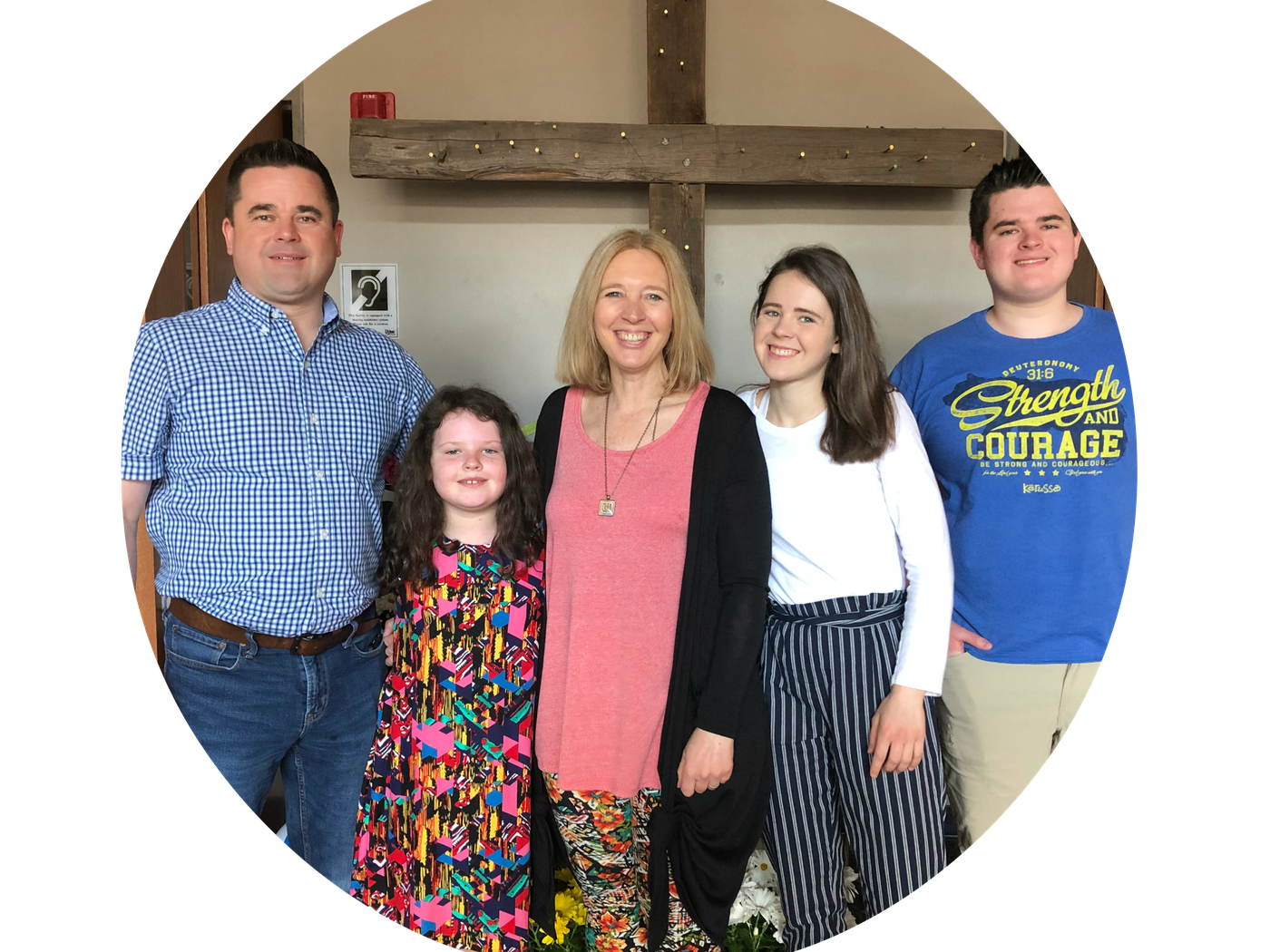 Scott Prentice and his wife Nicole have been members of New Hope since 2006. Scott and Nicole have 3 children, Noah (17), Callan (15) and Robyn (8) who have/still attended New Hope Christian School where Nicole works as teacher's aide. Scott is employed by Kimberly-Clark as a Senior Procurement Manager, and it was with Kimberly-Clark that Scott had his family moved to the area from the U.K. in 2005. Outside of work and church, Scott enjoys teaching and playing bagpipes, and is the acting Pipe Sergeant in the local area's only pipe band.
"Since the earliest days of childhood I was surrounded by family who led faith based lives, attending a local Church of Scotland each Sunday where both my father and grandfather served as elders, and where my mother and grandmothers were involved in the women's ministries. This early exposure to God, and his calling to each and every one of us, became rooted in me and always drew me towards him, so that during college, living away from home as a young adult, I continued to attend church. Fast forward to married life, Nicole and I attended a large church in the center of Glasgow, Scotland, where I was invited to become a serving elder. It was here also, that both Nicole and I served as leaders of the Sunday school.
When we moved to the US we decided to explore churches in the local area, and after visiting a few we walked through the doors of New Hope. The welcome we encountered was really warm and encouraging, the service so uplifting and positive, where God's love for us was laid forth in a way that we truly felt redeemed in Christ, that we knew we had found our new home! The music was also upbeat and joyous and of such a high standard – no more hymnals… We have been very blessed to have been part of New Hope's journey since then, and can personally testify as to how the Holy Spirit works through New Hope's family (both Church and School) to reach and care for those facing life's toughest challenges. As well as growing in faith through small group activity, Nicole served as a leader in Connection Land for many years, and I currently serve on the Hospitality Team and participate in the New Hope men's group. I would be honored to respond to Christ's calling, and serve the congregation of New Hope as a member of the board, using my talents to compliment the leadership already in place at New Hope in God's Kingdom expanding work here in N.E.W., and way beyond."
Jeff Strenger and his wife Susie have been members of New Hope for 11 years. In 2012 their daughter Jacquelyn and husband Ryan moved to the area and also joined New Hope. They were blessed with two grandchildren, Ellery and GraceAnn. Jeff is President of GNC - Laminations. Susie and Jeff were members of Faith Lutheran Church in Appleton for 20+ years where they both served in various volunteer roles before they moved out of the area in 2005.
"When we returned to the Fox Valley in 2008, we decided to visit a few churches. Our first visit to New Hope was warm and welcoming from the moment we walked through the doors. Some long standing members immediately reached out to us and included us in their small group. Our orientation with Pastor Jeff helped us understand the history and intentions of New Hope. We were especially attracted to the New Hope School and its Christian outreach into our community.
While I was raised in a very active Missouri Lutheran home and felt a deep connection with Christ since my childhood, recent relocations and changes in employment caused me to reflect even deeper. Daily bible reading and prayer though a few difficult years drew me toward my Savior as I felt His amazing strength and peace. If re-elected to the New Hope Board of Directors, I will actively listen to members, pray for God's guidance and share my past experiences. I feel compelled to be actively involved in the future of New Hope and would be honored to serve on the Board of Directors."
Eric Turner has been part of the New Hope family since 2011 with increasing amount of volunteering and support of various facility projects throughout those years. He is supported by his wife, Michelle, children and grandchildren all of whom he is consistently pouring in energy, love and encouragement.
As the owner of a local business, with conservative beginnings, it has grown to support over forty families. Eric has shown his ability to work in a team environment and is excited to use his knowledge and experience to expand the reach of New Hope.
If I had a theme song it would be "All my hope is in Jesus" by Crowder. The lyrics in that chorus sum up what matters most, where our focus needs to be, and how to overcome obstacles. All hope is in Jesus and I'm looking forward to the opportunity to guide, protect and develop plans that allow New Hope to flourish.
Prior to joining New Hope, I was lacking the emphasis of a life long journey with Jesus and how to build a personal relationship with Him. I am thankful for faith building opportunities to nourish and strengthen my walk with Jesus and modeling that for my family. Witnessing grace, forgiveness and the love of Jesus at New Hope has created a desire share that gift with others so they may have their own personal experience and relationship with God.
My professional experiences of owning and operating a business has many similarities to the business needs of a church including financial reviews and fiscal responsibility. In addition, I have the ability to assist with marketing opportunities, facility management, staffing and strategic vision as needed. If given the opportunity I would be honored to serve on the New Hope board.